I am a Year 8 student at Panmure Bridge School in Auckland, NZ. I am in Learning Space 2 and my teacher is Mrs Anderson.
Friday, 13 February 2015
Who is,smart,learns fast and friendly
Son of Alison and Jeff Lee
Lover of,hashbrowns,cucumber and pork
Who feels,angry,sad,excited and happy
Who is afraid of horror games,being
Who would like to eat candy all day,
have a day just with my mum and
have avocado on toast every day
Who wishes,to go to Hawaii,work with Activision
Who needs,all the Call of Duty games
1 dollar a day and a tree at my house
Tuesday, 10 February 2015
In the christmas holidays me my dad & my brother went camping.I was really excited so when I knew we were there I raced right out of the car and said YES! with excitement.So we got all the gear and headed for a spot to camp.While dad was setting up the tent my brother Latham and I went into the river and played on the rocks.Then dad finished the tent so we got into our togs & went for a swim.After the swim we went on the opposite side of the river and went for a walk in the water.When it got deep we stopped because it was so cold that we would freeze but we had to do it so I counted down 3 2 1 and I jumped in & swam to land.Then it got shallower and I could stand up.We ended our walk in water at the beach which is a very long way.We went back there at night to chatc some flounders but we couldn't find any.But then Latham saw an eel so we got out the net & caught it.Eels are really smart because if you put them on land it will find its way into water.Then we headed back to camp & went to sleep.In the morning we were planing to go to a waterfall but first we went for a swim in the river.Then we headed to the waterfall which is a very long walk.When we got there the water was cold & clear.when it got dark we got out the gas cooker & to toast marshmallows &went to bed.I enjoyed camping & I hope I can come back soon.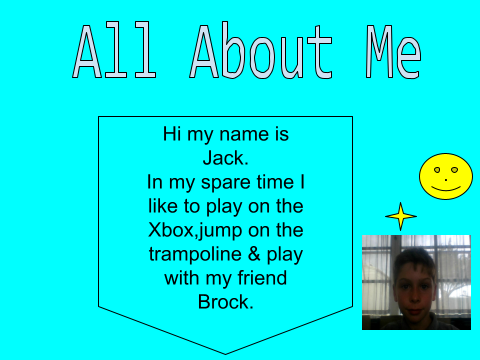 I learnt how to take snapshots & use callouts.